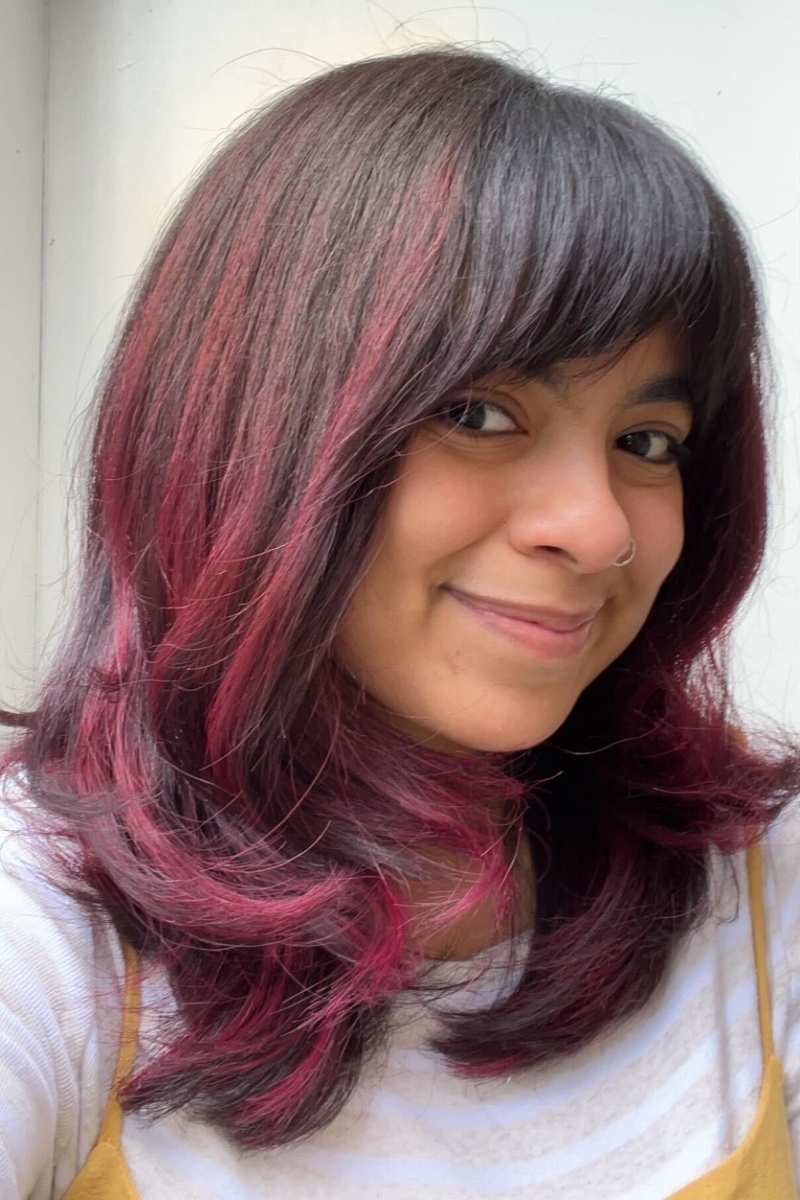 Have you talked to Karen yet? Call the salon and you just might get to!
Coming to us all the way from Dallas, Texas, she's one of our Office Assistants, helping to ensure each client is set up to have a successful and enjoyable experience, from the moment they schedule their service to the moment they leave the salon. When she's not working her appointment-making magic or studying Computer Information Systems (she's a first-gen student!), you can find her snacking on Hawaiian Punch® Bomb Pops®, baking—her strawberry tres leches cake is the stuff of legend—and playing all the video games. Also, she has cats.🐈
Q: What sparked your interest in working for Ginger & Maude®?
A: I admired how hard everyone works to make sure Ginger & Maude is a safe space, and I wanted to be part of something special!
Q: What do you think is an underrated, yet important part of customer service?
A: I think the most important part is building a connection with clients. I love getting to know the different folks who call in and their stories.
Q: What has been your favorite or most meaningful client interaction yet?
A: I think it was probably during my second week. I had someone call in about a kid who was in a tough situation and looking to get a haircut to feel confident. With the efforts of everyone at the salon, we were able to get them in and really put a smile on their face. That meant everything.
Q: What Front Desk service options does Ginger & Maude offer that people sometimes don't know about, but clients tell you they love?
A: Silent services! I've had several introverted clients who love the option of a silent service so they don't feel pressured to have small talk.
Q: Fill in the blank: "It would make clients' lives easier to know the front desk can help them ______________."
A: Modify or add notes to their appointments! (So for example, extending your service time or communicating information about your needs to make sure you have the best salon experience possible.)
Q: If Ginger & Maude was made into a video game, how do you think characters would level up and which character would you play as?
A: I think Ginger & Maude would be a super cute and colorful RPG (role-playing game). You would level up by saving people from hair crises. Our playable characters would be our stylists and you'd be able to build a cool tag team! My role would be to support and supply the stylists with energy to keep styling!

We're absolutely loving having Karen on our team. We're also patiently awaiting the release of this game so we can have an all-salon tournament. 🎮