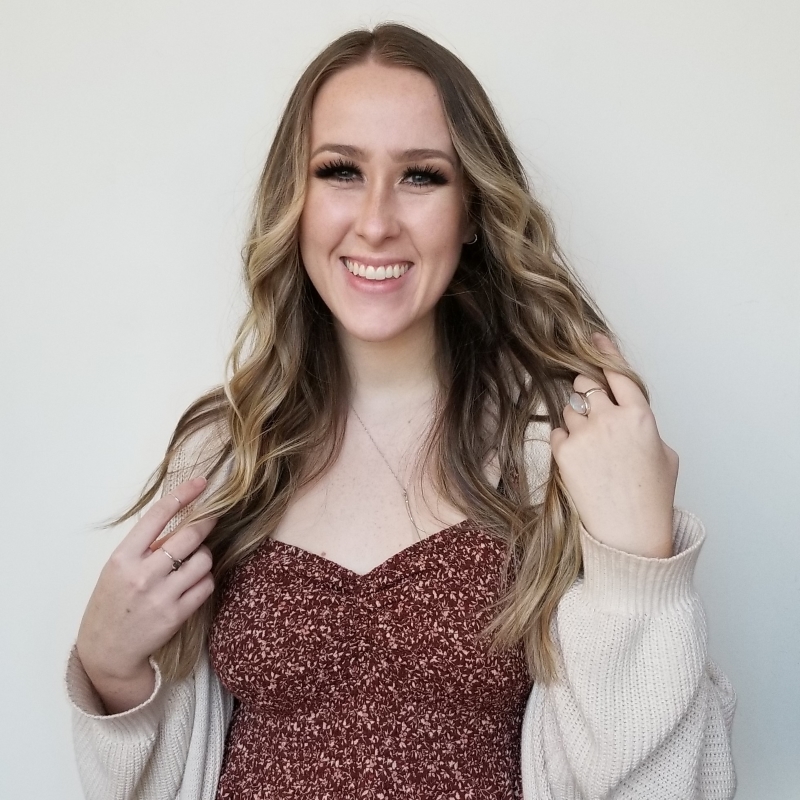 ATTENTION: We have some great news.
An incredibly beautiful soul has recently joined the Ginger & Maude team as an office assistant. Sophie is blowing our socks off with how quickly she jumped right in and made herself cozy amongst the Ginger & Maude team, AND SHE ALREADY KNOWS SO DANG MUCH ABOUT HAIR.
Also, she's #sodown to chat books and baking, so basically, she's a gotdamn angel.
Q: Tell us about yourself!
A: My name is Sophie Pardini, and I am originally from Northern California! I have lived in Portland for about four years now and am currently attending Portland Community College. After this term, I will be transferring to Portland State University to pursue a Bachelor's in Communications with a minor in Philosophy. I love reading, crystals, traveling, and treat-like smelling candles! I trained and worked as a stylist for a period of time, and while I stepped back from it in 2021 to pursue other passions, I simply couldn't fully stay away. Maybe it's because I was so young when I started—being in the hair and beauty industry helped me grow into who I am now, and it only feels right to be in a salon with people who inspire me every day.
Q: What sparked your interest in working for Ginger & Maude?
A: What truly sparked my interest in working for Ginger & Maude was their commitment to being a green salon as well as a B Corp. I have been vegan for about 5 years now, and sustainability, as well as social justice—which is inextricably linked to sustainability—and equity is what I wish all businesses would strive for. A salon not just holding these core values but also taking pure, tangible actions toward them and consistently demanding better from itself is one I wanted to work with.
Q: What do you think is the most underrated, yet important part of customer service?
A: The most underrated, but in my opinion, most important part of customer service is the genuineness needed from whoever is interacting with guests. Being able to recognize the utter humanness in every person, and approaching them with authenticity and kindness is vital in quality customer service.
Q: What Front Desk service options does Ginger & Maude offer that people sometimes don't know about, but clients tell you they love?
A: You can always text us; we are here and wanting to help you in accessible ways. So many guests have been delighted at how easy it is to schedule appointments over text.
Q: Fill in the blank: "It would make clients' lives easier to know the front desk can help them ______________."
A: Through text—seriously, it's a game changer!
Q: What vegan baked good can cure even the hardest and loneliest of days?
A: The absolute best vegan baked good to specifically heal your loneliest and hardest days would have to be a blueberry muffin. I love making all kinds of baked goods, but there is something about a homemade muffin that is warm and comforting.
Q: What is your current recommended read for colder-weather days?
A: Oooh, when you read and it's cold, you want it to be something cozy, something familiar. So I would say that you should read whatever gives you that deep feeling of home and peace. Personally, I still find so much nostalgia and comfort in the Harry Potter series (despite how much I dislike the author's views).
Q: What has you the most excited in life right now?
A: Is "everything" an appropriate answer? I am loving life with my roommates, and I am excited to be going to PSU with them Winter Term—I am truly enjoying being back here in Portland!
Welcome to the club, Sophie! Y'all are in for a treat the next time you call.