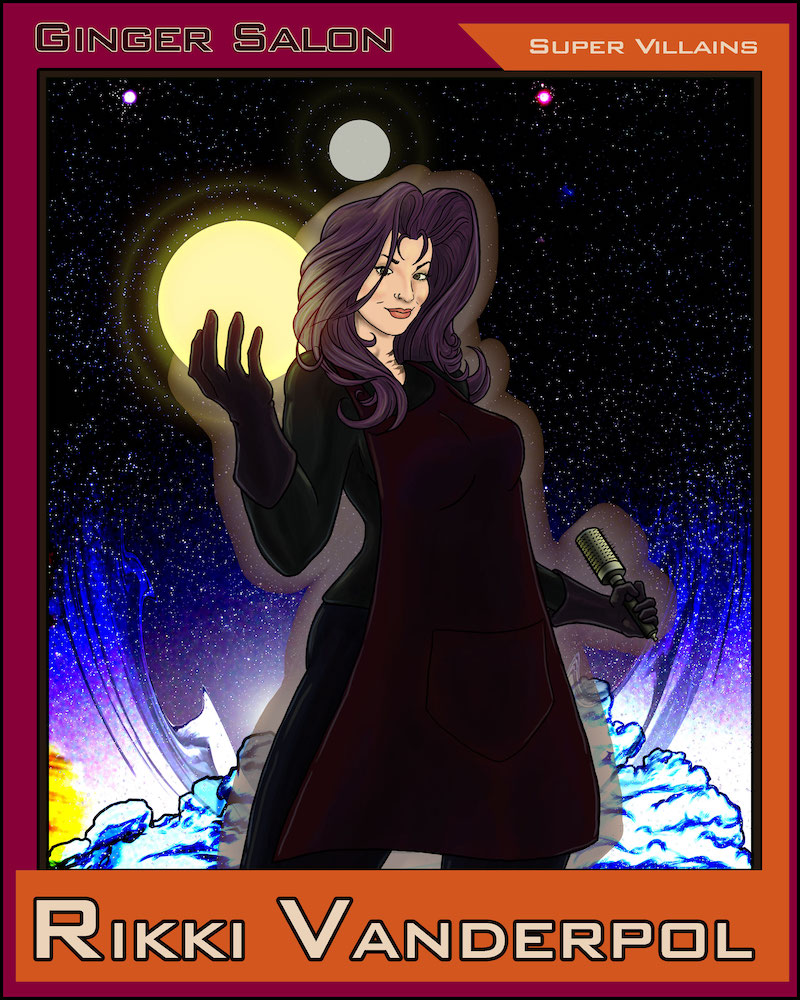 How much awesome can one person possess? Meet Rikki, and you'll know it's a lot. Not only is she an ace with razor cuts and creative color, but she's also… IN A BAND. We're absolutely stoked to have her rockin' out with Ginger Salon.
Q: Tell us about yourself!
A: Hi! I'm Rikki! I'm a Cancer sun, Virgo moon, and Libra rising.
I've been in the beauty industry for a decade, and after moving to Portland and starting at Ginger, I've rekindled my love for being behind the chair!
When I'm not in the salon, you can usually find me at a park with my toddler and one of my dogs. I also enjoy playing music and have been playing in various bands since I was a teenager. I've been lucky enough to do some fun traveling around the U.S. while playing in touring bands, and I'm looking forward to playing live music again when the timing is right!
Q: What inspired you to become a hairstylist?
A: Starting as a pre-teen, I was always finding ways to be creative with my own hair. I'm really fortunate to have a mom that allowed me to express myself by constantly changing and experimenting with it. I definitely think that's what set the stage for my career. I've always enjoyed the liberation, creativity, and expression within hair that I'm able to offer guests.
Q: What are you most looking forward to about working with the Ginger community?
A: I am most looking forward to connecting with guests and developing relationships with them. I'm also excited about collaborating with my coworkers and having their fresh and unique perspectives on how to approach various cuts and colors. To be a part of a community that is so supportive just feels so special, and I'm so lucky to be a part of the Ginger community!
Q: What would your superpower be?
A: I would love to be able to time-travel!
Q: Where are your favorite Portland hangouts (think pre- and post-pandemic)?
A: One of my absolute favorite spots is Ice Queen–it's a vegan paleta shop. I also really love Mis Tacones (vegan taqueria) and La Casa De Mama makes the bessst vegan conchas and champurrado! When I'm not eating food or treats (lol), I really love to go walk around Washington Park, especially when the roses are in bloom.
Q: Let's talk about our tagline--"We don't just love hair, we love people." How do you see Ginger being authentic to that and how do you bring it to life?
A: Ginger does a great job of being authentic to the tagline not only in the literal sense of us fostering relationships with our guests but also through the practices we follow within the salon, such as being a part of Green Circle Salons' beauty waste recycling program.
In my own personal life, I've taken steps to try to lessen the negative impact I leave on the planet, so it feels full circle and authentic to also be able to uphold those principles within my work life as well. Doing our part to be less wasteful definitely equates to the bigger picture of loving our earth and the people that inhabit it!
You'll find Rikki's work on her Instagram, @chingonahairpdx, and can experience it firsthand at our Northeast, Northwest, and Southeast locations. Call or text the salon at 971.267.4080 or go online to book your next appointment with her!