Maybe we're biased, but Ginger is freaking FABULOUS, isn't it?
Hear us out, because we aren't only talking about it as half of Ginger & Maude (although, since we're on the topic…).
The ginger plant gives rise not only to one hell of a bloom, but also provides ginger root, a delicious and versatile spice offering a whole goddamn host of feel-good benefits, such as reducing nausea and gastrointestinal support; anti-inflammatory, antifungal, and antimicrobial properties; and cold-symptom alleviation. Plus, it has a warming effect on the body. How cozy.
And since we are strolling our way right into months KNOWN to increase our cravings for both warm foods and a hearty immune response, our stylists are dishing the details of their favorite ginger-including recipes.
Carrot Immunity Soup from Nicki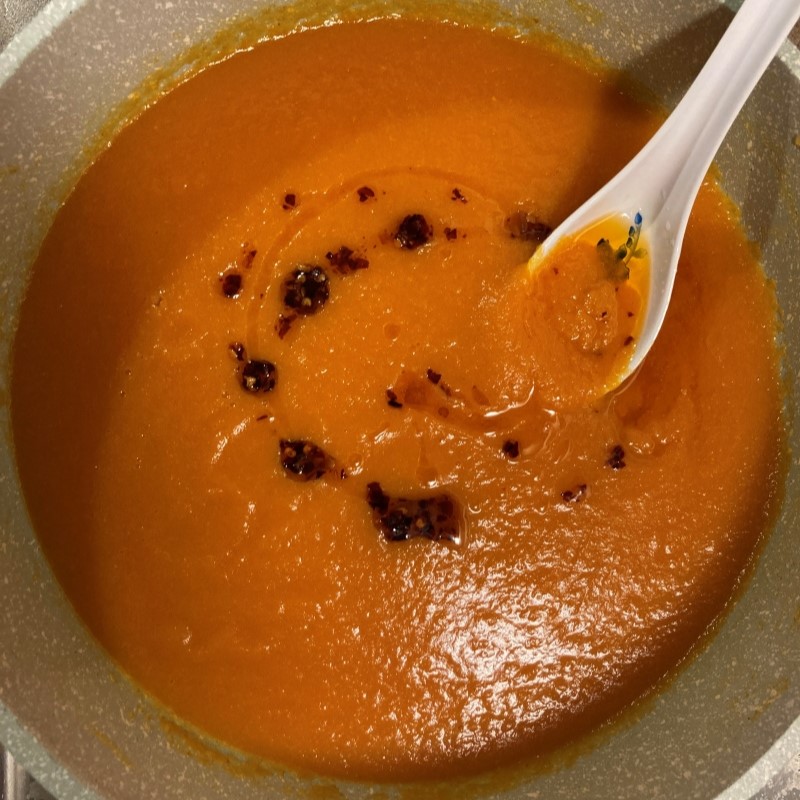 Tasty weeknight dinner that'll be ready in a snap and have your immune system SINGING. The ginger really zazzes up the flavor! Makes enough for 1-2 peeps.
Ingredients:
4-5 carrots, chopped
¼ of a chopped onion
A couple dashes of turmeric
2-3 cups broth, any kind
1 garlic clove
1 teaspoon fresh ginger, grated
Salt to taste
Place chopped carrots and onion inside a medium-large saucepan. Add enough broth to cover and add turmeric. Turn heat to medium.
​​​​You can put your ginger and your garlic in the pot to boil at this point, but I like to keep mine a little bit fresh so I'll add it once I blend everything together.
Boil until carrots are soft. Remove from heat and blend (can be done with a blender or immersion blender).
If you have not added your ginger and garlic do it now. Blend into soup.
Transfer soup back into saucepan. Heat, and salt to taste.
Add whatever garnish you'd like. (I topped with homemade chili and garlic oil!)
Notes:
Want to add even more flavor? Add a spoonful of miso paste or a couple dashes of fish sauce.
Fresh Ginger-Lemon Tea from Ligeia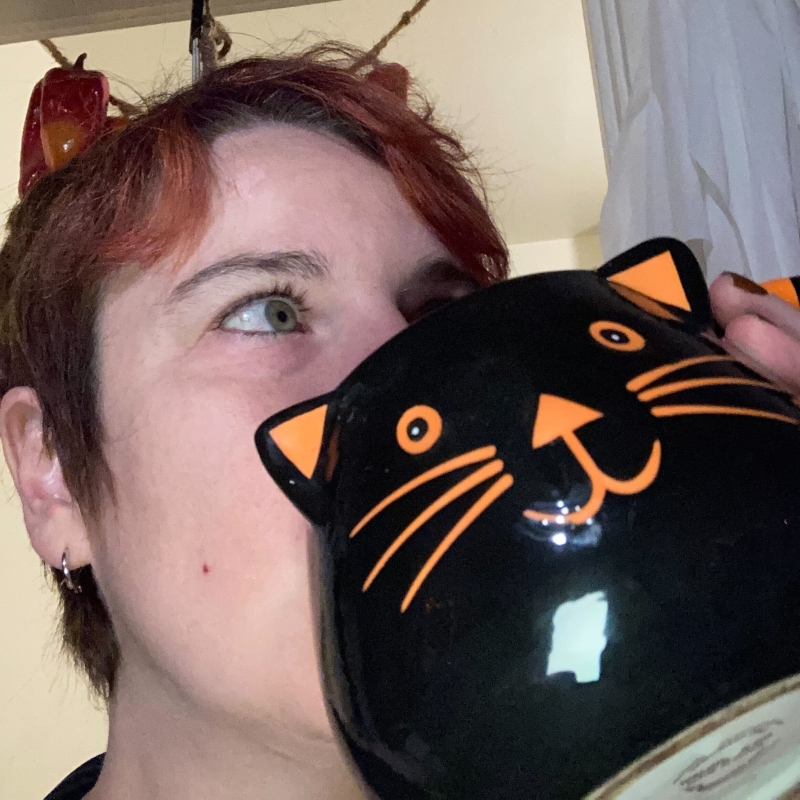 A classic tea staple that is easily prepared, perfectly comforting, and a must-have for warming up on chilly days and keeping seasonal sniffles at bay. This recipe is one of my favorites because it is so simple, yet so tasty. I love ginger and this tea really allows it to come through. Makes about 8 cups.
Ingredients:
2 small lemons, sliced or wedged
6 ounces fresh ginger, sliced into pieces
2 quarts water
Place lemons and ginger into a slow cooker or pot.
Fill with water and cook on low for at least half an hour (the longer the better).
Strain out the bits if you're not a fan of tea floaties.
Mug it up, drizzle with honey, and drink while wearing your favorite fluffy socks.
Notes:
While this tea is lovely on its own, feel free to add other immune-boosting spices to the mix while brewing, such as cinnamon sticks or oregano!
Ginger-Spiked Cinnamon Rolls from Deanna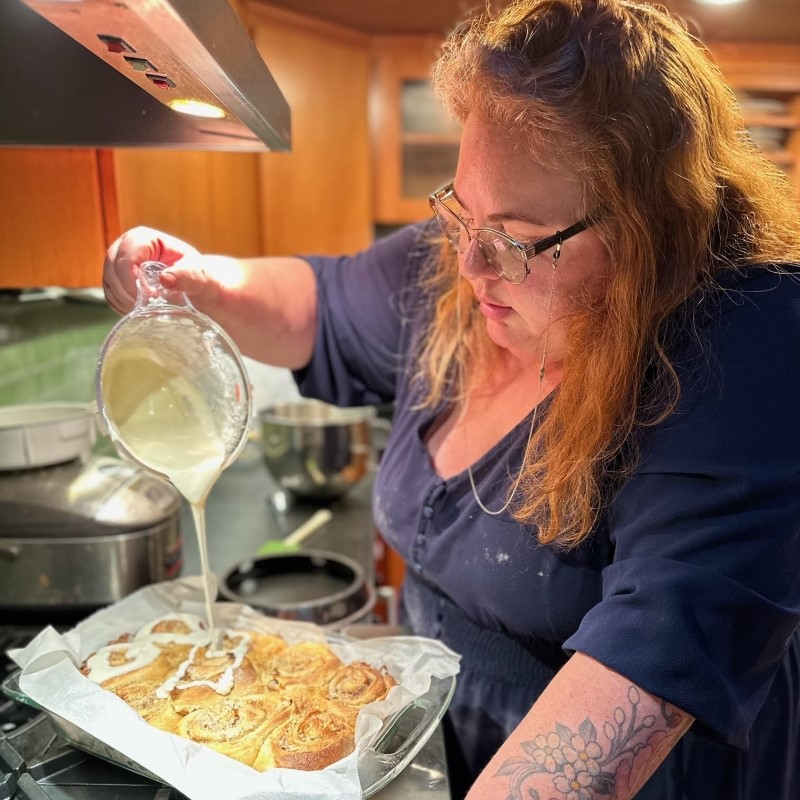 I use ginger in this recipe to bring out the earthy flavor of the yeast. Do not skip this step. I'm not sure what to say about why ginger is so important in cinnamon rolls, but maybe it's the grumpy undertone we all need to make that well-rounded end flavor of a perfect dessert? Makes 9 cinnamon rolls.
Ingredients:
For the dough:
¾ cup warm milk (whole milk or 2% preferred) (110° F)
2 ¼ teaspoons quick rise or active yeast (¼-ounce package)
1 pinch ground ginger
¼ cup organic granulated sugar
1 egg plus 1 egg yolk, room temperature
¼ cup unsalted butter, melted
¼ cup butter-flavored shortening
3 cups flour, plus more for dusting
½ cup golden raisins steamed and cooled (microwave in a covered dish with 1 tablespoon water)
¾ teaspoon salt
Vegetable oil, for greasing the bowl
For the filling:
¼ cup unsalted butter, softened
⅔ cup organic dark brown sugar
1 ½ tablespoon ground cinnamon
¼ teaspoon salt
For the topping:
1 cup heavy cream
1 teaspoon ground cinnamon
⅛ cup organic dark brown sugar
½ teaspoon salt
For the vanilla glaze:
2 cups organic confectioner's sugar, sifted
1 teaspoon salt
3 tablespoons melted unsalted butter
1 teaspoon Grand Marnier (or vanilla if you're gonna be mad about it)
2 tablespoons hot milk
Warm milk to around 110° F. I like to do this by placing milk in a microwave-safe bowl and microwaving it for 40-45 seconds. It should be like warm bath water.
Transfer warm milk to the bowl of an electric mixer with a dough hook attachment and sprinkle yeast on top. Turn mixer to medium. Add in sugar, egg, egg yolk, ginger, shortening, and melted butter. Mix until well combined. Next add in flour, raisins, and salt, and mix until a dough begins to form.
Knead dough by hand for about 10 minutes or until it is super damn shiny. Don't be lazy and use the mixer—the warmth of your hands helps the yeast wake the hell up. Dough should form into a nice ball and be slightly sticky. If it's TOO sticky, add in two more tablespoons of flour.
Transfer dough ball to a well-oiled (vegetable oil) bowl, cover with plastic wrap and a warm towel. Allow dough to rise for 1 to 1 ½ hours, or until doubled in size. This may be more or less time depending on the humidity and temperature in your home.
After dough has doubled in size, transfer to a well-floured surface and roll out into a 14x9 inch rectangle. Smoosh softened butter over dough, leaving a ¼ inch margin at the far side of the dough.
In a small bowl, mix together brown sugar, salt, and cinnamon. Use your hands to sprinkle mixture over the buttered dough, then rub the brown sugar mixture into the butter. Think Thanksgiving turkey.
Tightly roll dough up, starting from the 9-inch side and place seam side down making sure to seal the edges of the dough as best you can. You will probably need to cut off about an inch off the ends of the dough as they won't be as full of cinnamon sugar as we'd want them to be.
Cut into 1-inch sections with a serrated knife or floss. You should get 9 large pieces.
Place cinnamon rolls in a greased 9x13-inch baking pan (I also recommend lining the pan with parchment paper, in case any of the filling ends up leaking out.) Cover with plastic wrap and a warm towel and let rise again for 30-45 minutes.
Preheat oven to 350° F. Remove plastic wrap and towel. Whip the heavy cream until strong peaks form, then add in the cinnamon, brown sugar, and salt. Spread this mixture over the top of the rolls. You're welcome.
Bake cinnamon rolls for 20-25 minutes or until just slightly golden brown on the edges. You want to underbake them a little so they stay soft in the middle, that's why we want them just slightly golden brown. Allow them to cool for 5-10 minutes before glazing.
To make the glaze: Combine confectioner's sugar, salt, melted butter, Grand Marnier, and hot milk into a bowl; beat until smooth. Add a little more milk if necessary to make a thin glaze. Pour over very warm cinnamon rolls.
Notes:
Use whole milk.
Don't use bread flour; the original recipe calls for it but it doesn't make a difference. Stop acting like it makes a difference.
I used unsalted butter. Don't come for me. SALTED BUTTER KILLS YEAST, PEOPLE.
All sugars need to be organic.
All ingredients need to be room temp.
DON'T melt the butter when you're spreading it on the rolled-out dough. Just smoosh it on there and then smoosh the brown sugar mixture into it. Ah, yeah, smoosh it.
These rolls bake in a 9x13 inch pan.
If you don't add the golden raisins, I don't even know what to say to you. Just walk away now.
Use Grand Marnier instead of Vanilla. You. Are. Welcome.
Enjoy, y'all. And don't get upset. We love Maude too, but a Maude-including recipe would be weird. And possibly illegal.