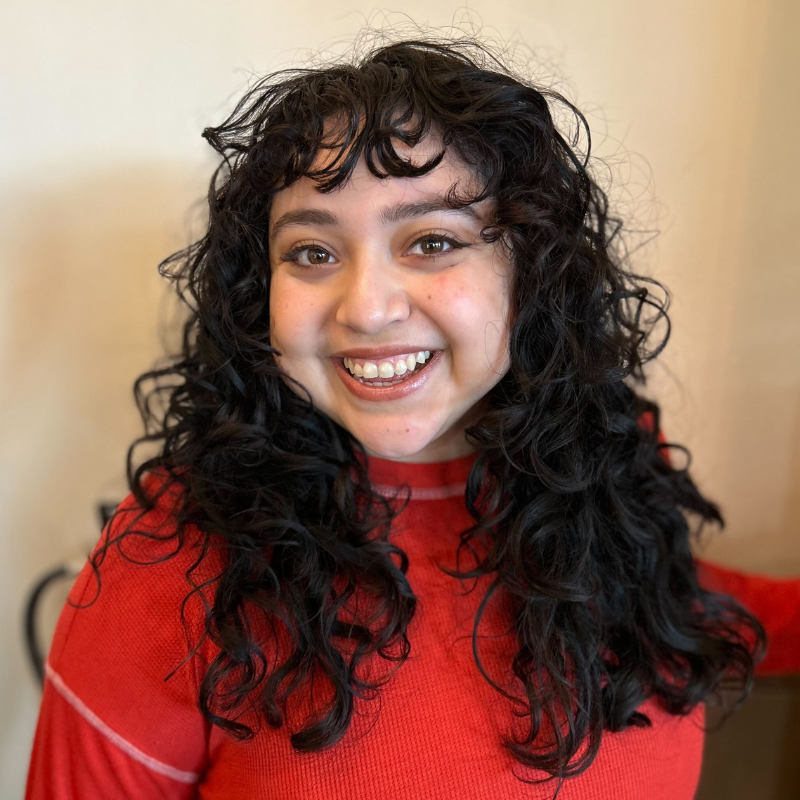 We have some veeerrry exciting news for y'all. As of last Friday, Celeste is officially working on (or should we say dancing her way around?) the floor! 🎉 Not only is she—legit—the kindest of kind humans, she is the very definition of a people person and will definitely let you know just how stoked she is to see you. As if that isn't the best all on its own, she's also always up for chats about Love is Blind and traveling, and will probably be down to have a dance party and offer makeup tips if you ask. Just sayin'.
Q: Tell us about yourself!
A: Hi! My name is Celeste (she/her), and I am so thrilled to be a part of the Ginger & Maude team! I am originally from New Mexico but have lived here in Portland for several years. When I'm not working, I love to sit in a cafe and read! My all-time favorite book is The Seven Husbands of Evelyn Hugo by Taylor Jenkins Reid—so many emotions and twists!
Q: What inspired you to become a hairstylist?
A: I have always had a passion for helping others, and being a hairstylist gives me the opportunity to empower people to feel beautiful every single day.
Q: Why did you choose Ginger & Maude as home?
A: Ginger & Maude creates such a welcoming environment; I am very lucky to be a part of such a strong, talented, and positive team! I love that Ginger & Maude is a B Corp® salon because it is so important to me to be Earth-conscious and held to a high standard.
Q: What is currently your fave KEVIN.MURPHY product and why do you love it?
A: I am OBSESSED with KEVIN.MURPHY's new KILLER.TWIRLS! It is one of the most hydrating products I have found for my curls because of the oat milk and shea butter. It's light enough to work on both curly and wavy textures and overall gives the most defined, bouncy, and beautiful curls!
Q: Tell us the styles and trends that have you the most excited right now?
A: I am most excited that people are now embracing their curly hair! I have been seeing so many people beginning their journey to happy, healthy curls, and I just love it.
Q: If you weren't a hairstylist, what do you think you would be?
A: If I weren't a hairstylist, I would want to be performing professionally. I grew up dancing and singing, so it's been a big part of my life, and before becoming a hairstylist, I had the opportunity to travel around the world teaching and performing for about three years. I love being on stage because I love the feeling of making people smile and telling a story through movement.
Give Celeste a follow on Instagram, @celeste.menuey, then grab your favorite book and come sit in her chair in our Foster-Powell and Fremont locations. We PROMISE you won't regret it.