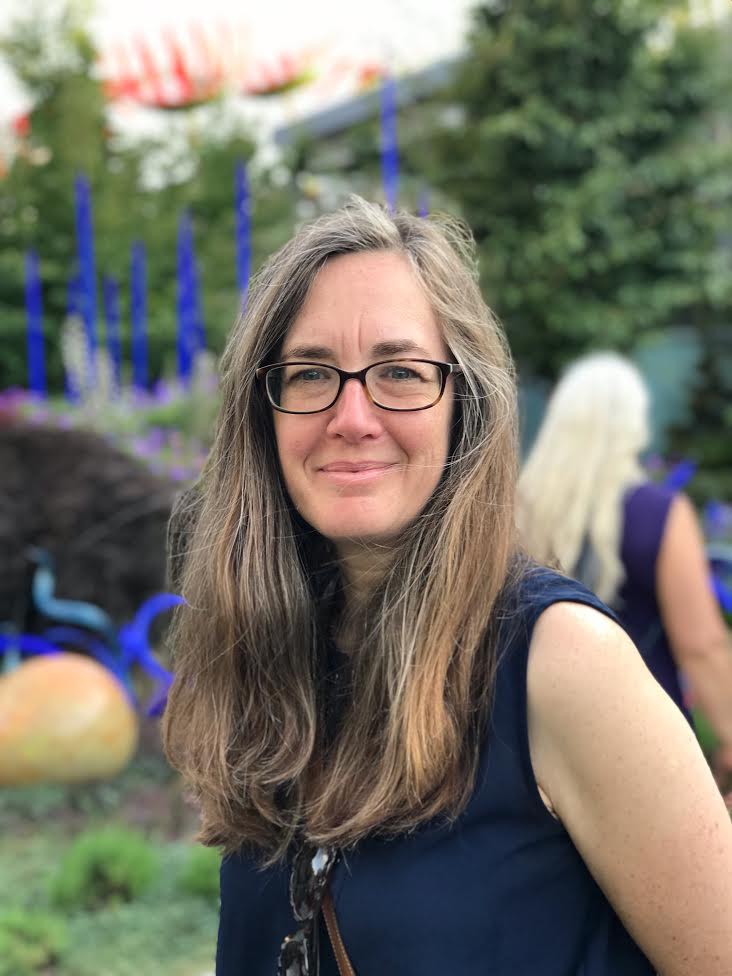 Remember when we told you about the incredibly high-tech air scrubber systems we've installed at each salon to ensure the air you breathe is as fresh as your new lewks? Well, the woman behind the installations is someone you need to know. Afterall, friends introduce friends. It's what we do.
You've got to meet Betsy, the owner of Harper Construction and Renovation, LLC in Portland.
G: Betsy, hello! Please tell us about yourself!
B: Hello! I have an art background with an accounting degree. Yes, I'm odd. My favorite thing to tell folks is that my art training taught me more about business than business school. I learned perseverance in looking for solutions and a creative perspective. I still use my business education daily, but design and problem solving is the fun side. My husband and I are business partners and parents to three young adults. The construction company was originally his dream, but it soon became mine. We both have the opportunity to excel at what we do best. He'll joke and say I tell him where to be and when. It's true that I design, bid, and schedule our projects. He is usually on site doing carpentry and bringing everyone together.
G:How did you decide to own a construction/renovation company?
B: My husband did not find sitting behind a desk fulfilling. He had an engineering degree and didn't enjoy using it. I had an accounting degree and didn't find it very satisfying.
We both like seeing what we have accomplished. I grew up surrounded by construction. My father, his brother and father were all electricians. My other grandfather was a plumber and small business owner. I was an only child for a long time. My parents made me think I could do anything. I don't remember ever thinking anything belonged in the girls' realm at home. I have fond memories of watching my parents demo a wall together when I was too young to wield a sledgehammer. Funny that now moving and removing walls is a favorite activity. Harper Construction & Renovation, LLC grew out of wanting more living in our lives. Sounds corny, but the act of creating is such joy! I still sometimes don't believe that people let us tear up their houses so that we can make them better!
(I remember wanting to play with trucks and big building blocks in nursery school. It wasn't encouraged. Thank goodness times have changed.)
G: How prevalent is a woman-run construction business?
B: Women owned construction businesses are definitely the exception, although I think there are more women-run than is obvious. I worked in the background initially and moved to a more prominent role as our children grew up. I became a majority owner in 2013.
G: Construction seems to carry with it a male-dominant presumption. Educate us. Is that accurate?
B: Clients, as well as new subcontractors, usually expect to interact with a man, but usually both are receptive once they understand that I know what I am talking about. I used to feel more defensive about it, but now it's resolved pretty immediately. Often decisions about a home's details are more important to one person or the other, usually its the women of the family. I find they are often thrilled to be having design conversations with another woman. Once Hans and I were meeting with a husband and wife ,and we were discussing the location of an outlet. I suggested one below the top of the vanity. The wife almost gave me a high five while Hans and her husband scratched their heads. It's nice to be able to plug in a hairdryer and not worry about knocking things off the vanity. We all laughed.
It is getting better. I am sure that my confidence with experience has helped. We work with some great subs that don't question my role, however that hasn't always been the case. We have parted ways with some that couldn't make the shift.
G: Have you found gender equality within this market?
B: Yes and no. Sometimes I get more help than my husband. I accept it. Sometimes I have to ask for it. His grandmother said, ``It's ok that you work with the guys but don't think you have to keep up with them." I did at first, but they have more upper body strength and that's just the way it is. Sometimes I get the job, because customers recognize the extra I can bring to the job. I don't see it as affirmative, I truly think my perspective is a bonus. I think subs like working with me because I try to make their jobs easier. I work at seeing how everyone's role/job impacts the other, plan for it, and support it.
G: Do you have any insider tips and tricks for simple updates to support loving and caring for our homes - the place we spend so much time these days?
B: One of my favorite forms of energy is photons! Add light! I've been using Retrofit LEDs in can lights for awhile. If a CFL uses 1/3 the electricity of a tungsten bulb and an LED uses 1/3 of a CFL that's 1/9 the energy used if you make a leap directly to LED. TMI I know. The accountant in me is showing. So American Lighting has a light I have just recently found. It's dimmable. and the color temperature is adjustable. 2700K is warm light like your favorite tungsten, and 5000K gets you a feel of bright daylight. Might do your mood some good! You could go bright in the winter and adjust down in the spring.
My other suggestions would be to add some color! Color is my passion as Oprah would say! Paint is relatively cheap, and pretty easy to change. If not paint then fabric. But let yourself have some color! Ginger is good!
G: What are some of your favorite local shops that you love to support?
B: There are so many, but here are a few:
Signature Shoes - good work shoes, clog, great service!
9248 SW Beaverton Hillsdale Highway
Beaverton, OR 97005
Dragonfly Coffee House -Chai Coffee!!! Fresh Ginger
2387 NW Thurman St
Portland, OR 97210
Susie Brooks,
Real Estate Broker, GREAT with buyers!
Susie.Brooks@gmail.com
503-780-4445
Amanda Sprinkling-Felt
Home Inspector -Very Detailed!
OCHI #2265
503-369-8498
amanda@trueinspectionspdx.com
Derek Shoe Repair
Ask for Jessica Jones, because who wouldn't want a superhero to fix their shoes, and she's awesome!
515 SW Broadway #24
Portland, OR