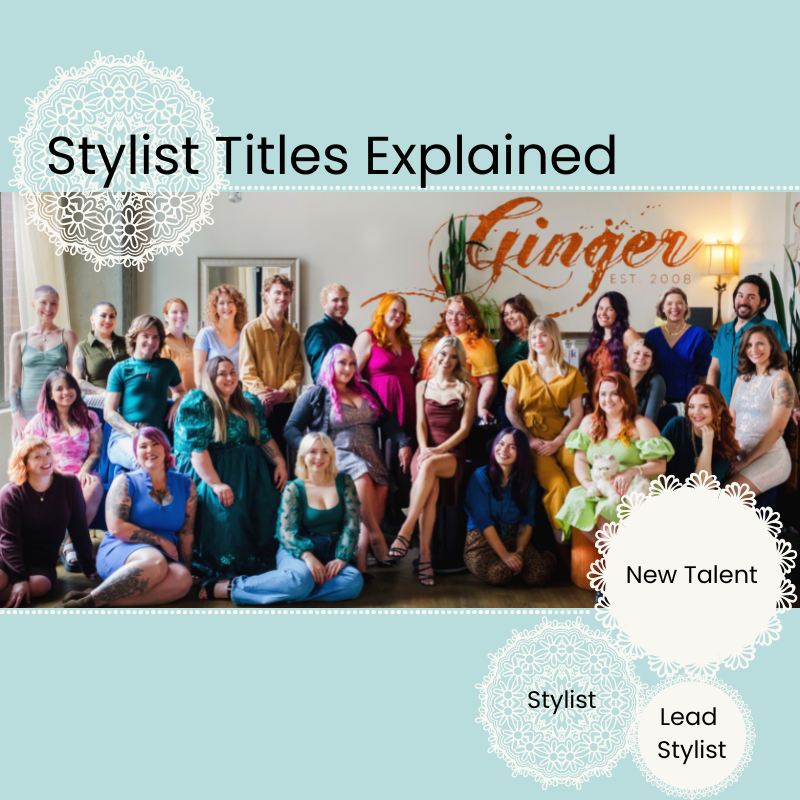 We love a tiered system, primarily because it offers more pricing options to accommodate a variety of budgets while still offering great service. We also know it can get confusing, especially when you're new to the salon. If you find yourself feeling like, "Whaaaa… ?!" looking at the options, refer back here for a more in-depth look at the meaning behind each title.
(1) New Talents. New Talents are licensed hairstylists who have completed at least half of our apprenticeship program and are now finishing their training under the guidance of our Education Director. They are well-trained, talented, and still relatively new to the craft, meaning their experience level is lower than that of a Stylist or Lead Stylist. They only provide services for which they have fully finished training and theirs are offered at a discounted rate.
(2) Stylists. Stylists are experienced hairstylists. They have either fully graduated from our apprenticeship program or were hired on with a comparable amount of experience and knowledge.
(3) Lead Stylists. Because everyone starts at the salon as either an apprentice or a stylist, the title of Lead Stylist can only be achieved by consistently kicking butt and staying in high demand. Within the title of Lead Stylist, there are also various levels, which stylists can move up to as their demand increases.
While New Talents have all services discounted, the only pricing difference you'll see between a Stylist and a Lead Stylist is the cost of haircuts. You will also see this difference in haircut prices between the five different levels of Lead Stylists. If you are wanting a more involved service, need a color correction, or simply want to work with a more experienced stylist, please book with either a Stylist or a Lead Stylist.
We hope this helps clear things up. And hey—if you have further questions, we're here to answer them. Don't hesitate to send us a text or an email.