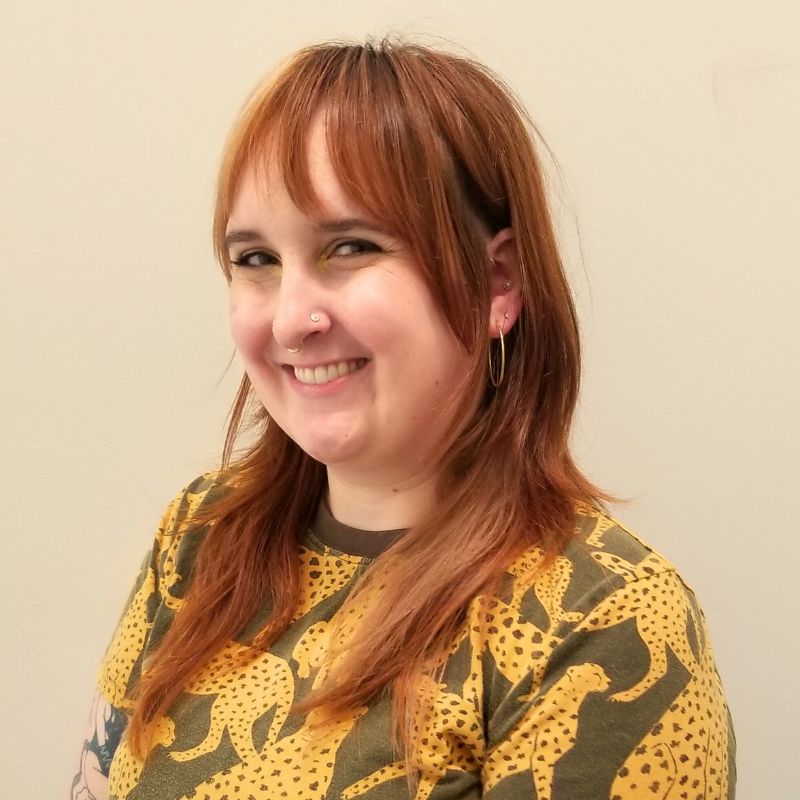 No tricks here, just some really awesome news: we have a new stylist working on the floor and we just know you're going to love her. Seriously, Delaney (she/they) is THE coolest of the cool and we're thrilled she chose Ginger & Maude® as home.
Q: Tell us about yourself!
A: Hi! My name is Delaney, and I'm originally from the San Francisco Bay Area. I've been living in Portland for the last few years with my fiancée and our cat, Cleo.
Growing up, I was always drawn to becoming a hairdresser—my mom is also a stylist with over 30 years of experience behind the chair, so she has been a huge inspiration for me. Now, I have been doing hair for five years, and I love being a part of such a cool industry!
When I am not in the salon, you can probably find me at a local brewery or taproom with a pint and my knitting! I am also a huge fan of foraging mushrooms and love exploring local hiking trails.
Q: Why did you choose Ginger & Maude as home?
A: I chose Ginger & Maude as home because I love how supportive of an environment it is for both stylists and clients. I also love that Ginger & Maude is a B Corp® that takes recycling and caring for the environment very seriously!
Q: What styles and trends are you the most stoked on?
A: I am loving the current "cowboy copper" trend. Being a redhead myself, I love bringing others to the copper side! I'm also always stoked to give someone curtain bangs—I think they're so flattering and customizable.
Q: Tell us your current go-to KEVIN.MURPHY product. Why do you love it?
A: My favorite KEVIN.MURPHY product at the moment is SHIMMER.SHINE. It smells amazing and gives great shine and softness to the hair without being too heavy. I have fine that can be weighed down easily, and I love how light it feels and that it can be used on wet or dry hair.
Q: If you weren't a hairstylist, what do you think you would be?
A: If I wasn't doing hair, I would probably be a tattoo artist or working the counter at a piercing shop. I have always been in love with all things body modification, especially jewelry curation for piercings.
Q: What is your favorite Halloween tradition?
A: My favorite Halloween tradition would probably be hanging out at home with my fiancée, making a home-cooked meal and watching classic horror movies. (And snacking on Halloween candy of course!)
Keep up with Delaney on Instagram @delaneybellehair, and schedule your next visit with her online or by calling/texting 971.267.4080!