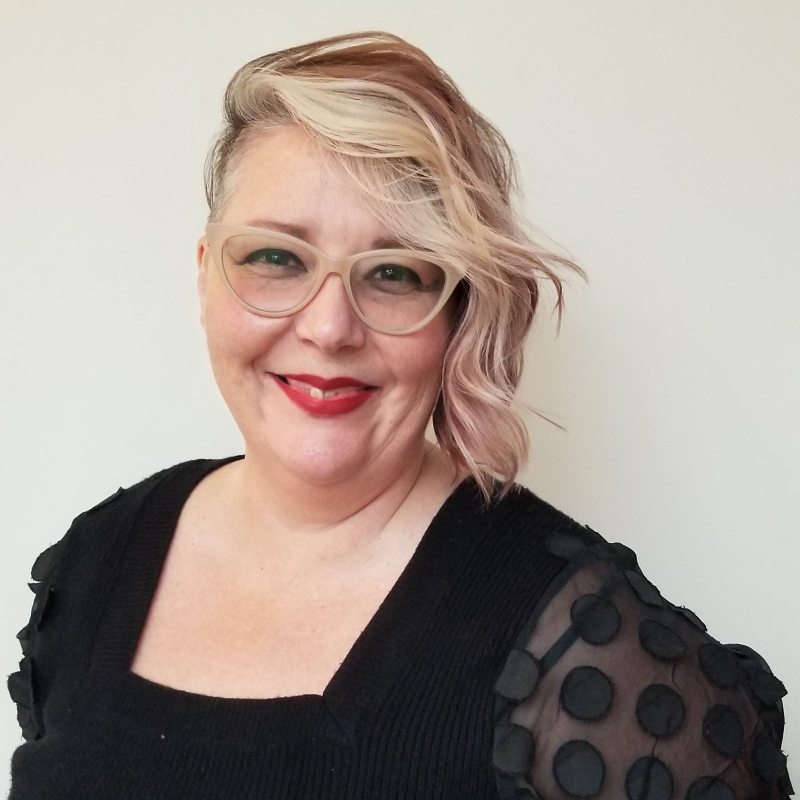 So… We may have hit the jackpot with Jennifer. She's been working in the industry for nearly three decades and is absolutely ON FIRE with hair. Seriously—she can do it all, but our favorite thing about her is her commitment to tailoring each person's hair to fit them. (Okay, that's ONE of our favorite things, because she also loves Halloween, Star Wars, and roller derby. How can we possibly decide?!)
Q: Tell us about yourself!
A: I am a single mom of a 16-year-old and a dog. I live in Troutdale and am a lover of everything "Oregon," from the outdoors to quirky Renaissance faires. I am going to be a well-seasoned 50 years old this year—whoop, whoop!
Q: What inspired you to become a hairstylist?
A: I was struggling with my life goals after high school and was impressed by a commercial for a school of hair design I saw on TV. I thought, "I could do that," went for an interview, and immediately knew it was the right fit. I love helping people love their hair, especially when they've struggled with it in the past. Sometimes finding the perfect color, cut, or product can change your whole life.
Q: What sparked your interest in working with the Ginger & Maude community?
A: Meg told me to apply! I was ready for a change in my life—after experiencing many toxic salon environments, I really wanted to be part of a healthy salon community.
Q: You worked as an educator for a number of years. How did that experience influence your work as a stylist?
A: It helped me learn how to manage people's expectations. Being a "yes" person, learning to say, "No," was really hard—I still have to catch myself when I know it's the right answer.
Q: Tell us about a favorite feel-good moment you've had behind the chair.
A: I was helping a friend at her wedding, and the hairdresser was really struggling with the styles the wedding party wanted—she was in tears—so I stepped in and offered to help. Together, we were able to give them all hair they loved. The pictures were awesome, everyone felt better, and there were no more tears! The wedding party and the hairstylist were all extremely thankful, and I was grateful to have been able to help out in such a big way.
Q: What looks and styles are you currently stoked on?
A: I am living for warm blondes and face-framing haircuts.
Q: Question of the Year: Star Wars or Star Trek? Why?
A: Star Wars every day, all day. I always wanted to be a space pirate and fight against the Empire.
Follow Jennifer on Instagram, @jennifer.scholtes, then come sit in her chair at our Fremont, Multnomah Village, or Slabtown location and try to convince her that Star Trek is better. It'll be fun, we promise. 🤭