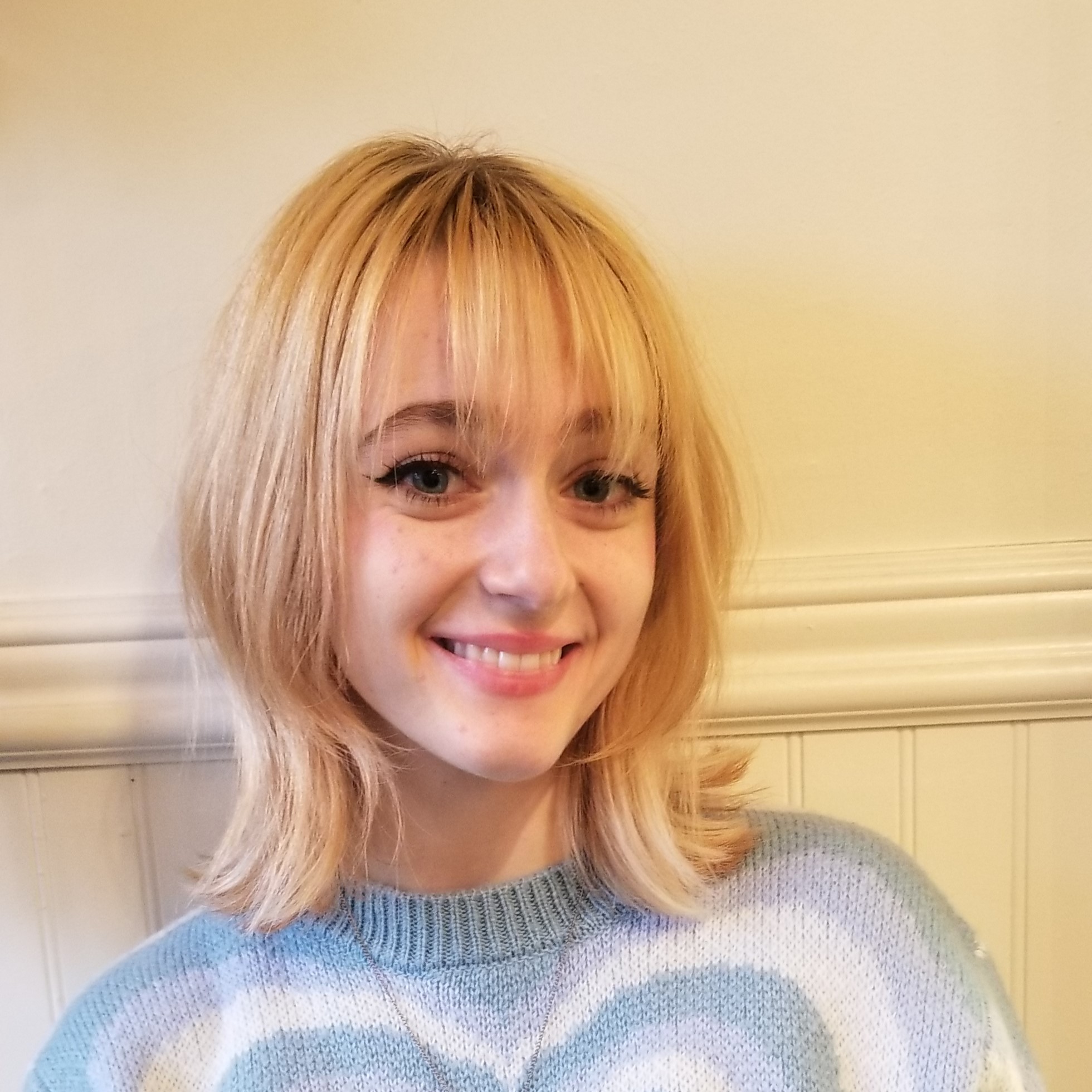 If you enjoy the following things:
-chatting about cars
-animals
-a really amazing human giving you some really lovely hair,
please, take a seat in Sofiya's chair. She is the literal sweetest.
Q: Tell us about yourself!
A: Hi, there! My name is Sofiya. I am a 22-year-old Scorpio and the newest apprentice on the floor at Ginger & Maude. Growing up, I always wanted to work where I could connect with people and do what I do best—make them FEEL GOOD in their skin! As the pandemic hit, I was on the traditional college route, and I realized there was no way I could create such connections with people from behind a screen. I've never been one to sit still, so when offered the opportunity to change career paths and go to cosmetology school, I didn't even blink an eye. I was born in Ukraine but immigrated here at a pretty young age, therefore I am passionate about creating a welcoming environment for all those around me.
I love all things nature, connecting to my spirituality, and spending time with animals. Speaking of animals, I have two tuxedo cats, a corn snake, and a leopard gecko. I love them to pieces! I also love cars—long drives, working on them, and learning about automotive history. I am currently restoring a 1990 Honda CRX Si named Toothless.
Q: Why did you choose Ginger & Maude as home?
A: I've been going to Ginger & Maude since I was 17 years old and have had a deep love for the salon's environment since then. When I was looking for salons, I knew I wanted to be in a place that cared about the environment, the people in our community, and their employees, and was accepting of all clients and hair types. I checked out a lot of salons in the general Portland area, but none compared to Ginger & Maude (and if I am being honest I did not want to work anywhere else). Ginger & Maude is not only a Certified Sustainable salon, it was also the first B Corp® salon in the ENTIRE United States! This means we treat the earth, the community, and our employees the way they deserve.
Q: What looks and styles are currently giving you all the heart eyes?
A: I love a versatile rooted blonde! As someone who works with cars in her spare time, I absolutely love hair that can be low maintenance. I love the fact that someone can get their hair done a couple times a year and have it remain beautiful and impactful for a long period of time. I also love a good fringe, so I am excited to create lots of those when I have completed the cutting part of my apprenticeship program!
Q: If you were an animal, which would you be and why?
A: I would 110% be a cat. I love to be warm and cozy at home, cuddled up with the people I love, and out in nature exploring! Cats are such playful and kind creatures that also value their independence and all of those things scream ME!
Q: What is your dream car? Why?
A: My dream car is a 1985 DMC Delorean! I didn't know how to speak English when I moved to the United States of America, and I grew up watching Back to the Future. Those three movies, even though I didn't understand them for the first couple years, really sold that car for me. They're kinda slow and were not made well, but they're an absolutely beautiful vehicle with a rich history.
Q: If Ginger & Maude was a classic car, which do you think it would be?
A: Definitely the 1955 Dodge La Femme! It was the first car designed to be marketed towards women and came with beautiful, thought-out accessories such as a matching purse and raincoat. But that isn't why I think it screams Ginger & Maude.
The La Femme was a turning point in American automotive history. When Dodge was bringing it on, they wanted it to have its own distinctive style—a classiness that came with its own unique twist. They knew they had to stand out from the crowd and change the way people saw cars. This is where I see the connection.
Ginger & Maude, in our own way, also stands out like no other salon does! Our tagline 'We don't just love hair, we love people' shows me how much we care about those around us. Yes, we are a salon so we are here to make beautiful hair, but we also CARE. We want to make sure every business decision we make affects our planet and our community in a positive way.
Ginger & Maude is changing hair history by striving to create a unique style for every person who comes to us, no matter what. We are changing hair history by being environmentally conscious and caring about where our waste goes. We are changing history by treating our employees with respect. We are here to empower all people to be the best they can be and to look absolutely fabulous doing it!
Sofiya is currently available for Hair Color Services in our Fremont and Multnomah Village locations, so come exchange your cutest pet stories! Keep up with her hair journey on her Instagram, @styledbysofiya.