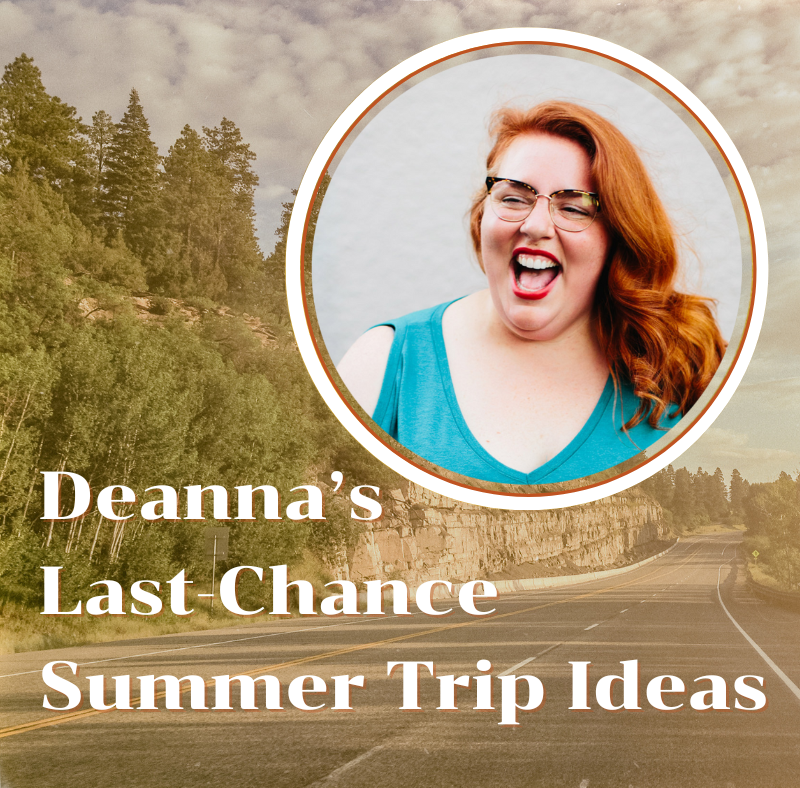 No matter who you are, boy, do I have a trip recommendation for you!
For the person who moved to Oregon from a big Midwest city and is now telling everyone they're a newfound hippy even though they aren't really because they never leave their apartment*:
The Spot: Metzler Park and Campground, camping spot #32. 
Duration: Two days. 
The Hype: Insta-worthy photos. Steps from a fast-moving crick (no, this isn't a creek, this is a fucking CRICK) that make it look and feel like you are in the middle of the Oregon forest when you are, in fact, just in a campground where someone drives around selling wood and bags of ice as though you were on a golf course. Also, there are multiple hiking trails that are ½ mile in length or less, for any video-taking you might want to do to show your friends back home that you are now definitely an outdoor adventurer.
Got children and want to prove to your in-laws that you didn't just rip them away from middle America for no reason? No problem. A swimming hole exists that includes a man-made waterslide safe for ages 2 and up. You're welcome.
Next-Level Tips: Rent all camping equipment from R.E.I. You don't have to clean it afterward.
Brontë's Rating: 9.5/10 Being somewhat of an outdoor adventurer who rarely leaves the house myself, I can say with full confidence that this place is fucking beauuutiful. And perfect if you want to feel outdoorsy but are maybe not in it for the boondocking experience. There's also a suspension bridge over Clear Creek, which could either be a huge plus or an unforgivable minus, depending on your personal feelings toward bridges.
Minus a half-point for the specificity of site. Deanna's not wrong—that spot is amaze, but the world knows it too. Book early or go for a weekday situation if you HAVE to have the must-have spot. If you're only available for a weekend and are willing to commit to a slightly lesser site, I'm sure you'll still have a wonderful time! Regardless of where you plan to lay your tent, book soon! Metzler is only open for camping through the end of September.
*Can be enjoyed by those who just like camping as well.
🏕️
For the nostalgic millennial:
The Spot: Wild Waves
Duration: One day
The Hype: Listen to me: this is a trip for a GROUP. Don't go to Wild Waves alone. That's not a thing. 
Leave Portland at 8:00 am—don't get grumpy, you're fine. Get to Wild Waves at 10:30, post up in your free outdoor lounge chair in front of the Wave Pool and watch MULTIPLE Debbie Gibson music videos. (The videos are all over the map—Wham!, Kesha, you name it—on a giant screen all day long. Literally, all-over-the-board music. But when I saw TWO Debbie Gibson music videos in one trip, I knew this was knowledge I needed to share.)
Bring sunblock; there's no coverage. It's fine. It's in the Northwest.
After you've swallowed enough chlorinated water, walk over to the roller coaster side of the park and ride what I would consider the Northwest's greatest gift to 24-year-olds, the Timberhawk Ride of Prey, a fully wooden roller coaster hidden in the trees in the far corner. You're welcome.
Next-Level Tips: Order a hand-dipped corn dog. Bring change to play at the arcade (all games are only one dollar).
Brontë's Rating: GO ON A TUESDAY. Everyone only pays the kid's price on Tuesdays. Apparently, there are discounts for people traveling in groups of 15-5,000. If you find 4,999 people to go to Wild Waves with you, please send pics. We will frame them and give them a permanent home in the Ginger & Maude Hall of Fame.
🌊
For the family who was actually a school of merpeople in their collective past life:
The Spot: George Rogers Park
Duration: This is a 9:00 am-1:00 pm, Sunday activity. 
The Hype: All ages welcome. Want to float in the Willamette without getting land-blasted by tides or boat wakes? No problem. Head to George Rogers Park, park in the bottom parking lot, and find a spot on their beautiful sandy beach.
Next-Level Tips: Kayaks for rent, floaties galore. 
Brontë's Rating: 10/10 in theory. I have not been here. However, almost immediately after talking about this park with Deanna, I heard about it from ANOTHER COMPLETELY SEPARATE PERSON who does not know Deanna so I feel confident it wasn't an under-the-table bribing situation specifically concocted for this post to draw folks to this particular park. I've heard they also have windsurfing stuffs for rent, so I mean, who's down to party?
🏄
For the spontaneous, just-for-shits-and-giggles friend who's YOLOing the shit out of life: 
The Spot: Burgerville Drive-Thru Strawberry Milkshake (If you're feeling frisky, you should go to the St John's Burgerville. Then you can eat it while driving up and down the St John's Bridge trying to figure out if you can U-turn on Highway 30, because you can't. If that's not available, any Burgerville will do.)
Duration: Depends how long the line is.
The Hype: You're thinking, "Oh, I'm so excited that Shake Shack came to town, but I have to drive to the suburbs," or, "Oh, In-and-Out has the best burgers." BULLSHIT. BV does. Stop lying to yourself. Go there. Get a fresh strawberry shake. We KNOW Wendy's just came out with a strawberry Frosty. Forget it. Go to the Burgerville drive-thru, order the fresh strawberry shake, THANK ME, and drive home. Best way to end the summer. You're welcome.
Next-Level Tips: Don't go during the lunch rush. Don't go during rush hour. Avoid all rushes.
Brontë's Rating: 20/10, would smash a BV milkshake over any other any day (except for maybe Skyline Restaurant). Double points for having a dairy-free option that is still delicious. Can't say I've ever had one while making multiple attempts at an impossible U-turn, but it sounds like an experience I would recommend having a buddy for.  
P.S. If strawberry isn't your vibe, their Portland Cold Brew is a gotdamn dream. ALSO, MARIONBERRY SHAKES ARE BACK.
P.P.S.
I've had Wendy's strawberry Frosty. Twice. It's aight. Chocolate will always be the classic. Waiting for their Neopolatin option now that they have all three flavors.
🥤
You know, June was taken from us. It was taken from us like Liam Neesan just moved to town. Don't let August sleep on you. Finish strong. You won't regret it.
Love,
Deanna