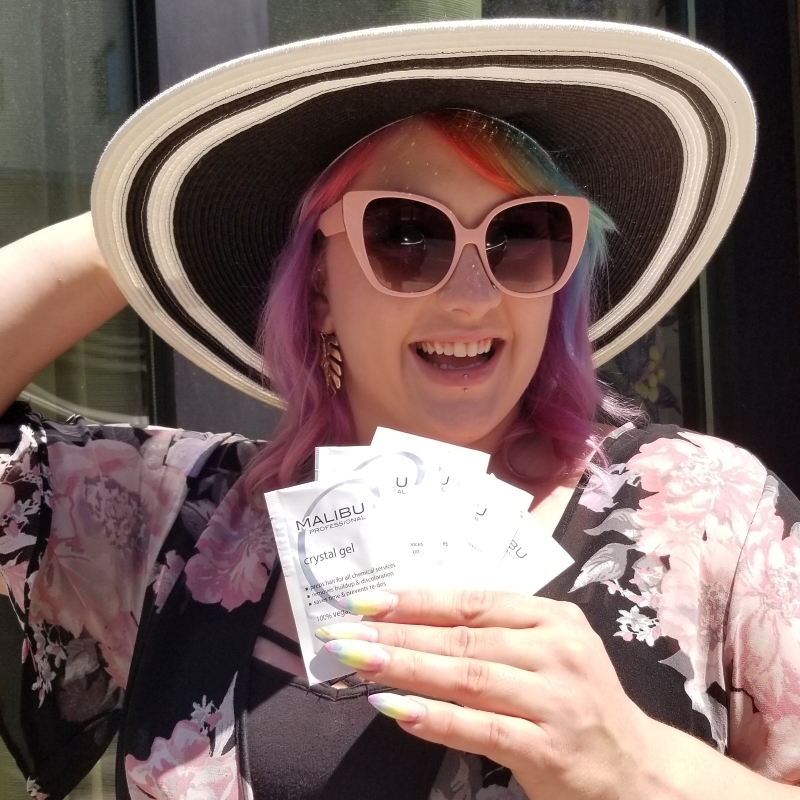 Ah, summer days. The sun is shining, the pool is beckoning, and the water is… leaving our hair dry and breaking, our scalps itchy and irritated, and our color dull and faded.
Ouch. That took an upsetting turn.
WHY, during such an Insta-worthy-photo time of year, does our hair seem to have suddenly gone into hibernation?
Here's the breakdown: In Portland, we get our water from two sources, the Bull Run Watershed, our mainstay surface water supply, and the Columbia South Shore Well Field, a backup groundwater supply. When water from Bull Run Watershed is lacking or unavailable—read: during the very long and hot summer months—the groundwater from Columbia South Shore Well Field is blended or subbed in to make sure there is still plenty of water to go around. We absolutely love this, obviously (access to safe and clean water is sort of a big deal), but it does make the water a good deal harder, meaning it contains a higher mineral content that can leave our hair with a case of the summertime blues.
Additionally, both water sources are treated with chlorine, ammonia, sodium carbonate, and carbon dioxide which is great in terms of keeping our drinking water free of Giardia and heavy metals, buuuut not so much for keeping our hair free of mineral buildup and sadness.
So what can we do? For at home, a filter for your shower head is a must for removing the gunk you don't want in the water you're using to wash your locks. And for the little extra clarifying boost we all could use this season, booking a Malibu treatment (like the Malibu C® Crystal Gel featured above!) at your favorite Ginger & Maude hair salon will have you searching for the perfect selfie spot all summer long.
Walk with us a moment while we explore these packets of magic, will you? You see, not only are they vegan and cruelty-free, they're also formulated without preservatives, parabens, glycol, gluten, fragrance, OR added sodium chloride (heck yeah). They remove buildup from hard water minerals, metallic salts, and medications—and the discoloration caused by those buildups—as well as calcium deposits on the scalp and swimmer's green (if you know, you know), leaving your hair hashtagging itself as the epitome of #healthwealthhappiness.
BUT WAIT; there's more. The treatments are not only okay, but ideal to use before chemical services, meaning you're all clear, and even encouraged, to add one on to your next color or lightening appointment! We love a natural multitasking moment.
And to keep that color locked in and looking fabulous as you saunter down the beach waving to all your paparazzi? New Talent Stylist Leia advises, "Wear an outrageously large sunhat!"
Fashion and function. Again, with the effortless multitasking. We live.
One last pro tip: Look out for this month's newsletter; it'll have a supersecret code word to get you a Malibu C® Hard Water Treatment you can do at home in between visits!
Now get out there and live your glorious-ass summer vibe—we've got your back (and your hair).